Full Program guide
Congratulations! You just made the first step in your health and fitness journey. Thank you so much for putting your faith in me to help you reach your goals.
Hang onto this full guide throughout our program, as it contains vital information to your success. In this guide, you will find general information on this program, an approved-foods grocery list, the most commonly asked FAQs, useful links to training and health resources, and much much more.
Make sure you are signed up in our Facebook group, so that you have direct access to a community of women with the same mindset and goals. And be sure to use the hashtag #PrettyFitMamas on Instagram so that we can find each other easily in order to support one another better.
With a lot of hard work and consistency, I KNOW we will get you where you want to be both physically and mentally. Let the fun begin!
measurments & Before/After Photos
During Prep Week, please take the following measurements (in inches):
biceps
bust
waist
hips
butt
thighs
calves
At the end of the program, we will take these measurements again to see how many total inches you lost.
You will want to take pictures BEFORE you begin this program. Tuck them away for now, and then on the last day, snap those pics again for your AFTER pictures. Trust me, you will be so proud of your progress.
Combined, measurements & before/after photos are the best ways for you to see your progress. The scale will not give you the whole picture.
whole food nutrition
What is Whole food nutrition?
Whole food nutrition is healthy, natural, and clean food. Think back to cavewoman days, we were intended to consume foods in WHOLE form because every nutrient we needed was all there. These nutrients include: macronutrients, micronutrients, vitamins, minerals, enzymes, antioxidants and phytonutrients. All of these nutrients work in harmony together to give your body the proper energy it requires to support good health. When we consume processed or refined foods, there is literally an artificial process happening to the food that is stripping all of the essential nutrients, thus losing the benefits of the natural food we started with.
What classifies as whole food?
If you are unsure if something is a whole food or not, here's a good rule of thumb: If the food you are contemplating was grown in the ground (fruits, veggies, nuts) or was raised by a mama (meat, fish), then you can consider that food safe.
Benefits to whole food nutrition:
Nutrients found in whole foods help lower risk for heart disease, high blood pressure and diabetes.
Most whole foods are rich in fiber, which helps keep the GI tract regular, helps you feel fuller faster, and again lowers our risk for heart disease and diabetes.
Whole foods have limited trans fats and saturated fats, which are frequently found in processed and junk foods and negatively affect cholesterol levels.
mindful eating
what is mindful eating?
Mindful eating is a practice of learning to pay attention of what, when, and why you are eating. Instead of eating just to eat because the clock says it's time, or eating just because food may be sitting directly in front of us, mindful eating is taking into account your feeling, thoughts, and reasons for eating. It is listening to your body and learning how to fuel your body properly.
benefits of mindful eating:
Eat when you're hungry, and not just out of habit
Taste your food and the flavors of the whole food
Learn how and which foods affects your energy and mood
Discover what foods best fuel you for your workouts
Notice your emotional state when you gravitate towards certain foods
Cut out the mindless eating that just adds extra calories
macros
What are MACROS?
Macronutrients are the basic component of foods and are what make up the caloric content of food. Also known as macros, they are made up of 3 categories: carbohydrates, proteins and fats. The reason why we will focus on macros instead of calories is twofold. 1. It is not about HOW MANY calories we are consuming, but WHAT KIND of calories we consume. 2. We are less restricted and are better able to listen to what our body needs to have the proper energy for our lifestyle. When we are eating a nutrient rich diet, with the proper macros, cravings for junk will go away because you are not deficient in anything. This will then give your body more energy so you can have better workouts and, thus, better results.
Benefit of tracking macros:
By tracking macros, you have more wiggle room to fit in a treat once in a while without throwing your fitness goals out of whack. As long as it fits into your macros, you can do it. Our discretionary day for treats will be Saturdays.
You can still be social and go out to dinner. As long as you can track your food, or even plan ahead of time, you can stay on track and not feel restricted.
You will become more educated on food and nutrition. By tracking your macros, you will become more aware of the foods you are eating and have a greater understanding of exactly what is in your food.
You will maximize your performance in the gym and accelerate your results. When you track your macros, you can physically see where you are deficient or where you are in excess. This is a huge help to becoming more mindful when it comes to nutrition.
hiit
what is HIIT?
We will be engaging in HIIT, or High Intensity Interval Training, at least 2 days each week. HIIT is a workout strategy where we perform short bursts of intense anaerobic exercise, followed by less intense recovery periods. There are multiple types of HIIT that we will engage in during this program, which include: Sprint Intervals, Tabata, and Circuit Training.
why HIIT?
HIIT is extremely important to fat loss because this type of anaerobic work completely depletes our glycogen stores. When we workout, our body will FIRST depend on our glycogen stores for energy. Once our glycogen stores are depleted, our bodies will then tap into our fat stores. By using HIIT, we can reach those fat stores and burn fat as energy, and therefore, see results.
weight training
WHAT IS WEIGHT TRAINING?
We will also be participating in heavy weight training days at least 2 days each week. These weight training workouts will be full body exercises, focused on arms, legs and back.
WHY WEIGHT TRAINING?
The goal is to push yourself and LIFT HEAVY. By lifting heavy weights, we will be able to build LEAN muscle. In doing this, we will also increase our metabolism, which will also aid us in fat loss.
Baby Wearing/stroller work
WHAT IS BABY WEARING/STROLLER WORK?
I get it...you're a busy mom and it's hard to get 5 workouts in each week without your kiddos around. That's why every single week you will have 1 workout as a Baby Wearing workout or a Stroller Workout. For these workouts, all you need is your kiddo, a wrap or harness, and a stroller. These workouts will be primarily focused on your legs and core.
WHY BABY WEARING/STROLLER WORK?
By having this day, we are also teaching our kids healthy habits and showing them that a Pretty Fit Mama is a happy and healthy mama. It's good for your kiddos to see you do something healthy for yourself. Not to mention, working out lowers our stress hormone levels, and sometimes we just need that on our days at home with the kids :)
DAY 1
TOTAL BODY WEIGHT TRAINING
Gym or Home
FYI: You will need dumbbells if participating at home
DAY 2
HIIT
DAY 3
HIIT
DAY 4
REST DAY
Low Calorie Day
You will consume 25% fewer calories today. For example, if MFP allots 1500 calories/day, today you will consume 1125 calories, which is 25% fewer calories. So: 1500 x 0.75 = 1125 calories.
DAY 5
BABY WEARING/STROLLER WORK
If your kiddos aren't home with you, or let's face it, this is your alone time...no need to have them with you. You are able to do this with or without the little ones.
DAY 6
TOTAL BODY WEIGHT TRAINING
Gym or Home
FYI: You will need dumbbells if participating at home
If you choose to leave room for discretionary calories/fun foods, this would be the day to do it (i.e. sweet treats, out for dinner). It is ideal for you to consume the treats immediately after your workout.
DAY 7
REST DAY
Low Calorie Day
You will consume 25% fewer calories today. For example, if MFP allots 1500 calories/day, today you will consume 1125 calories, which is 25% fewer calories. So: 1500 x 0.75 = 1125 calories.
training & health resources
program overview
Here, you will find an overview of what you can expect in this program, and what my expectations are of you. In my Pretty Fit Mama Programs, you can expect to:
Eat whole food nutrition to fuel our bodies properly
Engage in IIFYM to better understand the needs of our bodies vs the want of our brain
Perform HIIT to burn fat effectively
Lift heavy to build lean muscle
Focus on safe core work and receive education on Diastasis Recti
Develop a healthy mindset as it pertains to fitness and nutrition
Gain confidence in our body and abilities
Be a part of a private community positivity and support
Be held accountable daily by me, your personal trainer
My fitness pal
If you are new to my program, have never logged your food, or have never tracked your macros, then please watch this video and download the My Fitness Pal app onto your phone. We will rely on this app DAILY as a tool to help in your fat loss journey. Click on the link below for how to set up MFP:
bcaas
Also known as Branched Chain Amino Acids, BCAAs are helpful in achieving increased energy and enhanced fat loss. I personally consume BCAAs daily, and have found benefits from them, as they are designed to help stop muscle breakdown. There are many types of BCAAs out there, and I have found the Momsanity brand to be the "cleanest" and "purest" powder that is also safe for breastfeeding or pregnant women. I have linked the brand that I use here:
protein powder
Consuming protein powder can help aid in muscle growth, and getting more protein in your diet. Please be mindful when choosing a protein powder, as there are many out there with added sugars, preservatives, and other crap just to make it taste good. I personally believe that plant-based proteins are the closest to whole food nutrition, so I search for that type of protein powder. The 2 best powders I have found are Vega and Tone It Up. Here are the links to those:
approved foods
*This is a general list, not every food is included here.
protein:
Chicken Breast
Ground Sirloin / Bison
Steak
Cooked Sausage
Salmon
Tuna
Halibut
Eggs
Fruits:
All - Focus on low glycemic fruits like berries and green apples
Veggies:
Canned Goods:
Black Beans

Kidney Beans

Chick Peas
Tomatoes
Misc. Foods:
Nuts / Nut Butters
Sea Salt / Black Pepper
Olive / Coconut Oil
Apple Cider Vinegar
Lemon Juice
Herbs & Spices
Pure Maple Syrup
Honey
Protein Powder
Beef Jerky
training for marathon
If you are training for a marathon, or any type of endurance training, please DO NOT participate in Low Calorie Day. Give your body rest and fuel your body properly, with your typical amount of calories. You will need the energy from your nutrition to perform at an optimal level on your long training days. Just keep in mind, the reason why we do low calorie days is to deplete our glycogen stores. But if you are doing long endurance training, you are already using the glycogen stores, and therefore simulating your own low calorie day. Don't put yourself in a deficit. This would only be detrimental to your fat loss progress and overall health.
You are also able to be flexible with my Pretty Fit Mama Program and switch up the workouts so that they coordinate with your running training plan. For example, if you have a long run scheduled for Saturday, feel free to move the total body weight training day to Sunday. Just make sure that you are also adjust your macros and calorie intake based on your fitness effort.
Furthermore, please be mindful and listen to your body. You may need to bump up calories on long training days. Just keep in mind, for each mile you run, you burn about 100 calories. That means you're actually burning an extra 1,000 calories if you run 10 miles. Under-eating and over-exercising will only make your body store fat! It would be beneficial to consider increasing your macros/calories by 25%. Remember, being mindful and listening to your body is super important: practice eating until you're 80% full.
prep week
On our advertised start date, October 2nd, we will actually begin a full week of prep. This means, our program will actually end 5 full weeks after the "start-date." Prep week is vital for a few reasons:
I will educate you on Whole Food Nutrition
You will upload the MFP app and begin playing around on there to get the hang of it
I have created a Prep Week Workout so you will have the opportunity to test out the workouts
By having Prep Week, it will allow your body the chance to ease in and get the hang of it, so that we can start Week 1 going full force.
On Monday of prep week, I will send you a link to join the Facebook group. Your group will have no more than 25 clients, so that you can get to know one another and support each other authentically. On day 1 of prep week I will post an introduction thread for you to introduce yourself and get to know the other ladies in the group.
Please post your questions on our Facebook group page. Do not send me a text, email, or Facebook message with questions. I will not reply to you there. Chances are, if you have a question, then you aren't the only one. It will help the other mamas in this program if they are able to see your questions and my answers on the Facebook group page. It will also ensure that I answer your questions in a timely manner. I check the Facebook page three times each day to answer questions and view your updates.
expectations
During the Pretty Fit Mama Program, the goal is to commit to a healthy lifestyle and give yourself the grace and time that is necessary to see changes. Keep in mind, it takes about 6 weeks for you to see physical changes in yourself, and it takes about 12 weeks for others to notice. Don't let this discourage you. Know that you are creating a healthy life for you and your family, and trust in the process. I know that if you are committed and follow my program, you will see the results you want. If, after my program, you don't see changes and you followed my program spot on, there could be a few deeper issues. These could be: chronic stress, unhealthy sleep habits, a damaged gut flora, adrenal fatigue or hypothyroidism. These will need to be addressed and your program modified.
Many of us mamas have a misconception of over- exercising and under-eating. Unfortunately, it has become culturally accepted that the only way to lose weight is to have less coming in and more going out. The idea of hustling at the gym before or after a stressful day, or spending hours doing cardio just to watch those calories add up on the screen has become the norm. This is NOT healthy! If you're chronically stressed or sleep deprived, intense workouts will hurt, not help you. Sleep, rest, and proper nutrition are the main priorities on your journey toward better health.
With that being said, here are my expectations of you during Pretty Fit Mama:
Check in daily - I expect you to post your macros on our Facebook group every day. Also, I need to know if you have any questions or concerns.
Stay off the scale - Weigh yourself before we start, and then again on the final day. If you email me and say you have been following the plan, you're feeling great, but you've only lost 2lbs, I will remove you from my program without a refund. The scale is very deceptive and not a good indication of your progress. If you want to know why I feel so strongly about this, read this article by Amanda Tress : Stay Off The Scale.
Stick to the plan - You can't expect to see changes if you continue to do the same thing. You are investing your time and money into this program, and you are trusting me to help you. So let me help you and please, trust in this process.
Stay positive - Keeping a positive mindset is crucial. Remaining positive will help lower the stress hormone, cortisol. This is imperative, as cortisol is directly related to fat storage.
Give yourself grace - I will not stand for you beating yourself up. You are a strong woman! Know that this is a process. You didn't gain all of your weight in one day, and you won't lose it all in one day either. And that is more than okay, it's healthy!
There will also be some fun challenges throughout the program, complete with small prizes for the winner. I want this to be fun, I want you mamas to enjoy this program, and I want it to be a positive experience and something you can sustain throughout life.
terms & conditions
Once purchased, the payment for this program is nonrefundable. Should injury occur prior to start date or any time during the program, client may choose to defer start date and rejoin at another time. The goods and services offered with this program are intended solely for the use of the purchaser. Any client not in accordance with this will be removed from the program immediately without refund. I am not a Medical Doctor, and therefore will not be diagnosing or treating any client with a concern. I will, however, refer you to a physician and rely on that physician to approve you to returning to this program. I am not responsible for any injury incurred during this program. It is up to you to have proper form during workouts, and be smart and know your limitations when performing workouts. Client is expected to give 100% and follow program as is written, substitutions may be made once checking in with me.
Pretty Fit Mama: Body After Baby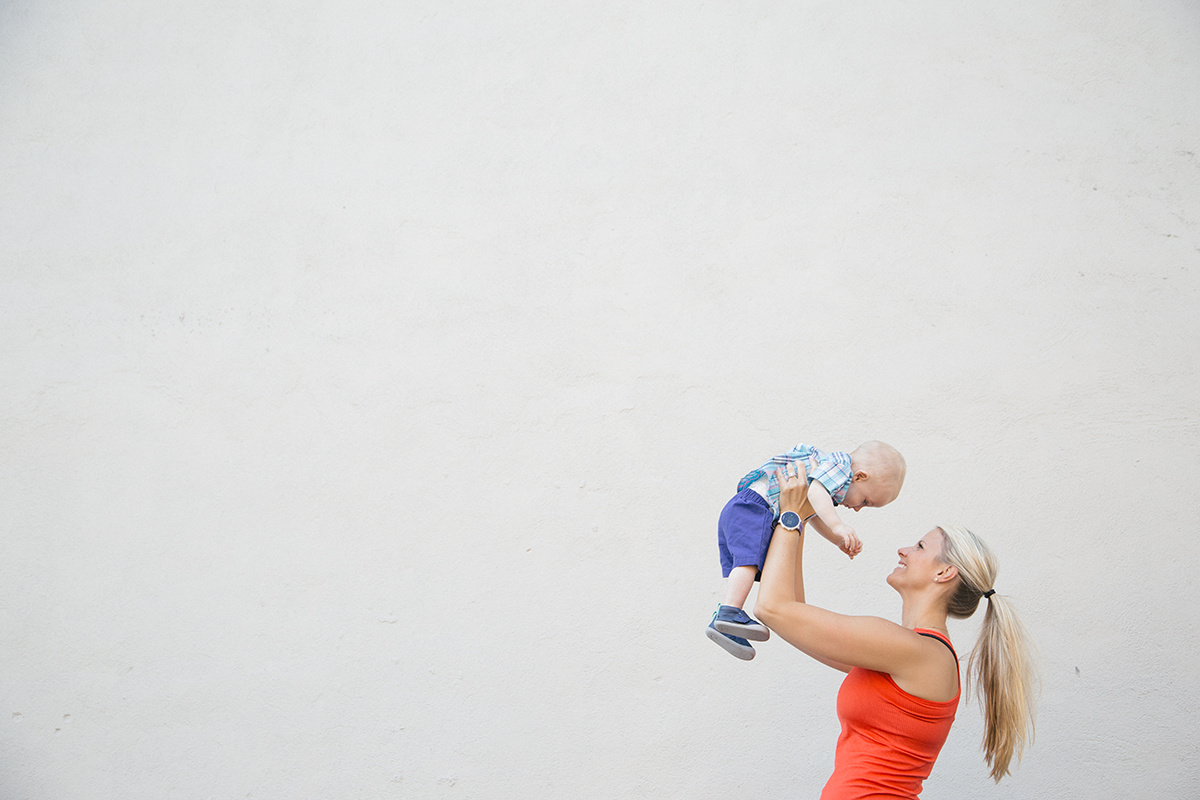 daily food ideas
View these ideas below for an example of what I eat throughout the week. In general, I like to keep things VERY simple and I don't like to reinvent the wheel.
Breakfast
Egg White Omelet with salsa, guac & turkey
Oatmeal with berries
Egg Bake with turkey sausage, tomatos, onion, bell peppers & mushroom
Lunch
Large Cobb Salad with grilled chicken, tomato or grapes or strawberries, cucumber, bell peppers, almond slivers, & feta or goat cheese
Turkey Rollups with pickle & mustard
Grilled Chicken with veggies (broccoli, squash/zucchini, brussel sprouts)
Grilled Chicken Salad with slivered almonds & grapes
Leftovers from dinner the previous night
Dinner
Grilled Chicken
Fajitas : shredded chicken or ground turkey with bell peppers, tomatoes, onions & corn
Marinated Flanksteak
Spaghetti & Meatballs : spaghetti squash or zoodles or gluten free (brown rice flour) with ground turkey meatballs
Salmon
Shrimp with feta & tomatos
Paleo Meatloaf with ground turkey or ground bison
Sides
Roasted Brussel Sprouts & Sweet Potatoes
Green Beans with Bacon
Curried Carrots
Parmesean Roasted Broccoli & Cauliflower
Sauteed Balsamic Asparagus
Roasted Chickpeas
Roasted Squash & Zucchini
Mashed Cauliflower
Brown Rice
Couscous
Quinoa
Snacks
Nuts: Almonds, Cashews, Walnuts
Fruit
Apple with nut butter
Granola (clean)
Protein Shake : Tone It Up or Vega
Protein Bar (clean) : KIND, Think Thin
Hummus with carrots, celery, bell peppers
Plain Popcorn
Beef Jerky
Dried fruit (watch sugar content)
Salami
Prep Week
Find Prep Week Workouts by clicking HERE
Workout Library:
Day 1: Total body workout
DAY 5: Baby Wearing Workout
Day 3: HIIT / Tabata
Use this Tabata timer : http://www.tabatatimer.com
During a Tabata round, you will perform 8 rounds of EACH exercise lasting 20 seconds, with a 10 second rest in between. Perform all 8 rounds before moving onto the next exercise. You get a 1 minute rest in between exercises.
week 3
day 1: total body
LEGS:
Barbell Walking Lunges
Calf Raises on Leg Press Machine
ARMS:
day 3: tabata
Use this Tabata timer : http://www.tabatatimer.com
During a Tabata round, you will perform 8 rounds of EACH exercise lasting 20 seconds, with a 10 second rest in between. Perform all 8 rounds before moving onto the next exercise. You get a 1 minute rest in between exercises.